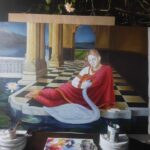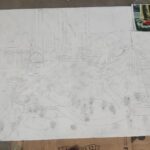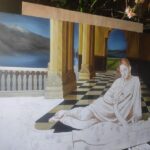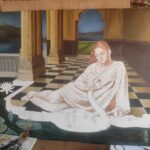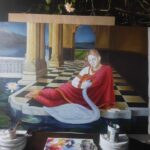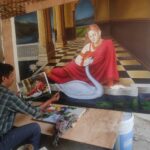 This beautiful young lady painting
Specifications
Dimensions – Size is 6×4 feet, on canvas Painting.
Colours Used – Non-Toxic, Eco Friendly, Acrylic/Oil-based colours for colour protection
Canvas Material – 100% Pure Cotton Canvas rolls for long lasting artwork
Frame – High Quality Wooden and Metal frames
Note: Canvas Painting can be customised based on your requirement. You can choose various sizes and frames which suit your wall the best paintings" in Amazon search. Thank you.
Description
About
Princess Damayanti talking with Royal Swan about Nal. The painting indicates the Swayamwara of the beautiful Princess Damayanti and her conversation with Nal in the disguise of a swan. This is an exquisite study of a gorgeous Indian women by the great artist Raja Ravi Varma.
This beautiful young lady painting is 200 Years old.
Painting the folds in their clothing show the effect of light on skin.
Painting the folds in their clothing and putting in details of their beautiful JEWELLERY.
He painted in the European style using realism and added depth to his Painting using perspective.
This is world famous Indian Damayanti women painting.